Here are our new Bump Steer Front Adjustable Tie Rod Ends for RS3 [8P], A3/S3 [8V], A3/S3 [8P], Leon 5F, Leon 1P, Skoda, Golf 5, Golf 6, Golf 7 FWD, Golf 7 AWD, Scirocco (PQ35 and MQB but with out Audi RS3 8V for this car please use WAS-513 here.
For performance driving toe angle is one of the most important suspension setup parameters. To control it over the entire range of coil over travel, we need to measure and adjust bump steer which could be needed, especially when we have changed other suspension parameters like ride height.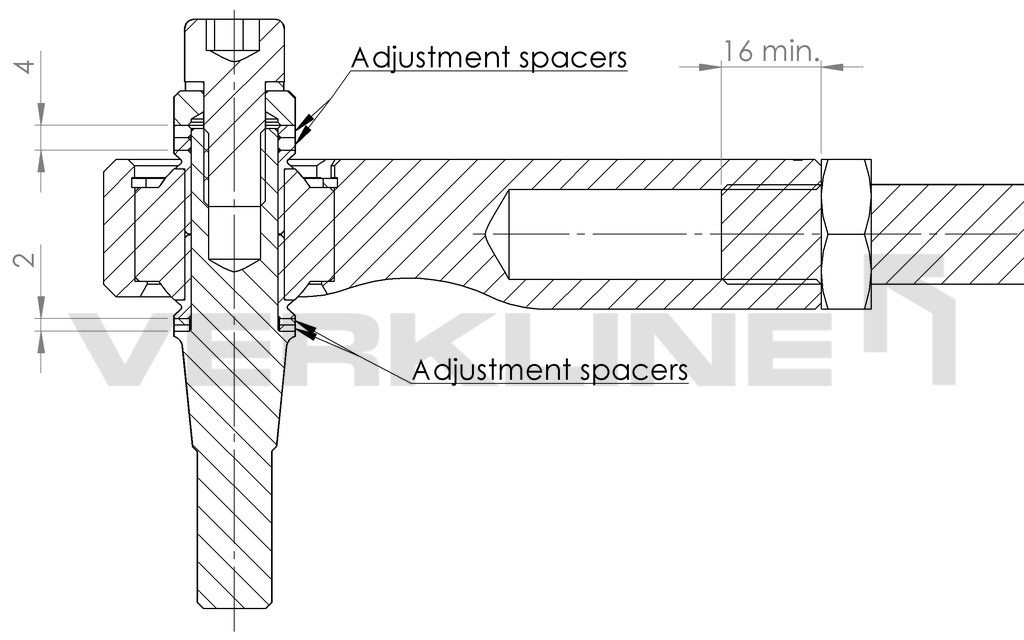 With Verkline tie rod ends it is possible to adjust front bump steer by relocating the ball joint lower or higher with attached adjustment spacers (see picture below). There are 6mm of them combined and You should always use all of them. To replicate OEM geometry put 2 mm of adjustment spacers below the ball joint and 4mm above it. If You want to change Your bump steer simply relocate some of the adjustment spacers from below the ball joint to its top, or the other way around.
Product functionalities:
Stiffer and stronger than OEM – designed to withstand all track racing abuse. 

Gives the possibility of adjusting the front bump steer.

Uses spherical bearings which give direct and predictable steering response.
Features:
Precisely CNC machined out of aluminum and high strength steel.

Black coating for a nice look and corrosion resistance.

Compatible both with OEM and Verkline uprights.
What is included:
Two aluminum tie rod ends (left and right – set for one car).

Set of bolts.

Two high strength pins.

Set of spacers for adjusting.

Two high quality PTFE motorsport uniballs.

Two turnbuckles with super slim nuts.

Printed install instructions.
Used in  cars (type numbers in brackets):
2005 – 2013 Audi A3/S3/RS3 (8P)

2015 –  2021 Audi A3/S3 (8V/8V.5) – Does not work with RS3 (8V). Please order WAS-513 here.

2007 – 2009 Volkswagen Eos (MkV)

2010 – 2013 Volkswagen Eos (MkVI)

2006 – 2009 Volkswagen Jetta/GTI/GLI/Rabbit/R32 (MkV)

2010 – 2014 Volkswagen Golf/GTI/Rabbit/R (MkVI)
2015 – 2020 Volkswagen Golf/GTI/R (Mk7)

2010 – 2015 Volkswagen Jetta/GLI (MkVI)
Note: Installation of this rear insert kit will introduce some additional NVH (noise, vibration, and harshness) transfer into the cabin.