After long CAD development based on 3D scan of OEM subframe, tested with CAD FEA (Finite element method) and road going tests you can now buy brand subframe for rear of your Audi/VW/SEAT/Skoda cars based on MQB platform with haldex. List of cars bellow.
Using same T45 tubing as in WRC cars, our subframes provide increased stiffness, mass reduction and delivers more precise handling. All factory parts bolt up to this unit, no other modifications are necessary.
This version is for cars looking for additional stiffens of the chassis with Rear Axle Crossmember Reinforcement. Mosty cars used racetrack (road courses). For cars that are used on drag strip we have this version – WAS-561.
Benefits (please scroll to the bottom of the page for additional list):
– 13.6 kg. It is 4.5 kg saving over OEM steel MQB subframe or 5 kg savings over OEM PQ35 (TT 8J, A3 8P) steel subframe.
– Possibility of adjusting camber, toe and bump steer.
– Additional track setup mounting for upper control arm – provides better camber gain and roll center
position (requires adjustable control arm to keep camber adjustment).
– One mounting subframe position, eliminates subframe shifting under the car. No need for subframe
locking kit / billet aluminium rear subframe inserts (weight savings).
– Increases chassis rigidity for improved handling performance.
– Additional rear-axle cross member. The reinforcement similar to Audi Sport rear-axle cross member will increases stiffness. This leads to even better vehicle handling at high speed and increasing lateral forces.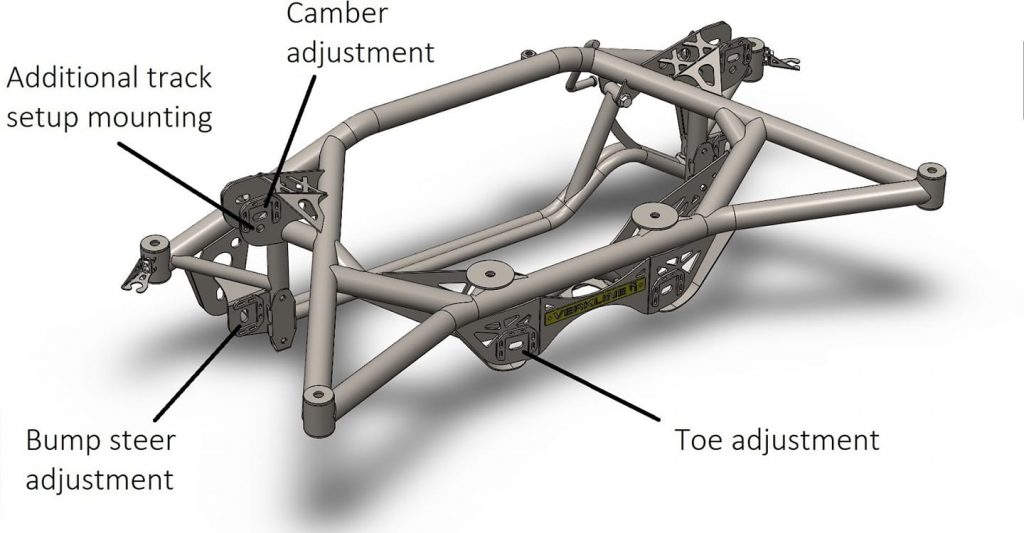 More pictures with additional information at the bottom.
Features:
– better access to car under body and enables wishbones change without subframe removal
– T45 (BS4T45 to BS4T100) tubing imported from UK and S355 metal sheets
– all components TIG welded
– delivered painted (powder coated) black or on special order ( 50 euro) any RAL color
– can be used with OEM wishbones or our adjustable wishbones
– mounts to the OEM car body and no other modifications are needed to fit the subframe
– includes mounts for two OEM rear xenon lights sensors
– can be used with exhaust up to 4 inch with OEM center positioning.
– no need for subframe inserts or our aluminium subframe bushings as the subframe comes with solid mounts to the car body
What is included:
– rear subframe powder coated in back.
– lower rear-axle cross member reinforcement bar
– set of 3 mm metal adjustable wishbone position shims for -5, -4, -3, -2, -1, 0, 1, 2, 3, 4, 5  mm positioning.
– printed install instructions
Used in PQ35 and MQB platform cars (Type numbers in brackets):
Audi A3/S3 (8Y) AWD 2022
Audi A3/S3 (8P & 8V & 8VFL 2012-2021) with Haldex
Audi RS3 (8V & 8FV 2013 )
Audi TT/TTS (8J & 8S 2006 ) with Haldex
Audi TTRS (8J & 8S 2009 )
Audi Q2 (2017 )
Audi Q3 / RSQ3 (F3 2018 )
SEAT León Mk3 (5F) (2006-2013) with Haldex
VW Golf Mk5 Mk6 Mk7 Mk8 (2003 ) with Haldex (AWD)
Does not work with Audi RS3 8P and VW Golf R32. Battery is located under the car behind the rear subframe. It is possible to use our subframe but the battery compartment has to be relocated.
T45 is a very unique seamless carbon based steel tube that has been used in many applications in different industries. It is stronger than Co-Mo 4130 tubing that also used in motorsport. It is widely used in the aerospace sector in equipment such as pilot's seats and crew's seats due to the materials ability to withstand high G forces without snapping or splitting. This material is a Carbon Manganese based and conforms to the full Aerospace Specification laid down by British Standards.
Properties
Tensile: 700 – 900MPa,
0.2% Yield 620MPa minimum
Hardness Test: 201min – 262 max HB or 210min – 275max HV.
Replaces:
– 5Q0505235E
– 5Q0505235J
– ZAW071151DDSP (rear axle crossmember reinforcement)
Notice: Sold for off road, track and racing applications only. Mounting the subframe may increase some noise, vibration, and harshness (NVH) in the car. Our tests with a stock VW Golf 7R they showed very minimal NVH increase only at idle. We strongly advice to mount the subframe in qualified and experienced workshop.
Additional technical information:
One of the first things to do in improving stock car cornering performance is decreasing its ride height. Unfortunately, it lowers not only our center of gravity, but also roll centers what could affect negatively our responsiveness. To prevent it, our new subframe has additional, track setup mounting of upper control arm. Besides correction of roll center height, it also helps with camber gain (change of camber angle within suspension travel). Original MQB/PQ35 cars have almost zero of it, to stay within same, small, non-aggressive for tires camber, no matter if You are driving car alone or fully packed within additional few hundred kilos. In circuit racing, priority is to optimize camber gain, to reduce positive camber in corners for better grip and that is what our additional mounting provides.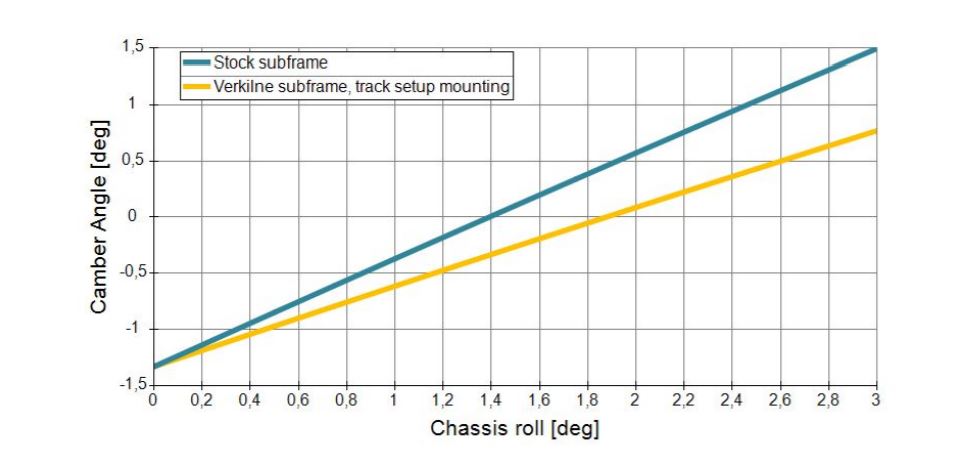 Next disadvantage of stock rear MQB/PQ35 platform suspension in racing use, is huge influence of camber angle on bump steer (change of toe angle within suspension travel).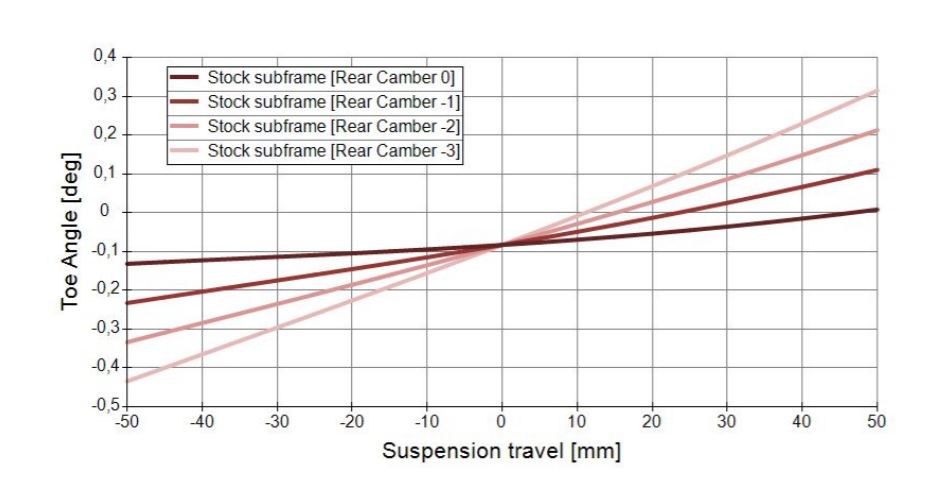 To help with that, we have added vertical slot on toe link mounting, to provide adjustability of bump steer. To compensate influence of every 0,5° of camber change on bump steer it is necessary to put toe link mount 1mm higher. So for example if You increase Your rear camber from -1,3° to -2,8° and You don't want to change bump steer, You should move your toe link mount 3mm higher. With our subframes we are delivering special offset shims to provide quick and accurate adjustability by 1mm.