When using the car on the track the cornering forces are bending the rubber in the wishbones (control arms). Thus changing the desired geometry of the car. This can lead to slower track times and ineffective tire usage.
For that reason we have come up with our control arms. Our race wishbones use metal to metal uniball just like used in Porsche RS line (GT2RS, GT3RS). Tested intensively on our Track Audi TTRS.
We are using same T45 tubing as in WRC cars, our wishbones provide increased stiffness and extra adjustment. All factory parts bolt up to this unit, no other modifications are necessary.
Most of the cars used on track are lowered compared to stock. Lowering the car has the undesirable effect of moving the chassis lower than the ball joint and excessive lowering results in the situation where the wishbone is pointing upwards at the wheel end. This means you need more steering lock when cornering, the car is sluggish to respond and doesn't feel as communicative. 
This is where our wishbones comes to fix this offering modified kinematics option to compensate lowered ride height. This version can only be used with our front tubular subframes.
This means you need more steering lock when cornering, the car is sluggish to respond and doesn't feel as communicative. To correct this and achieve the best kinematics of front suspension, you should use the sleeves included in the kit. They change the way kinematics of the suspension works, changing the position of the turnover centers of the components. 
More pictures with additional information at the bottom.
Product functionalities:
– Adjustment both caster and camber (up to -4.5 degrees camber)
– no rubber to bend, you will not loose the geometry set when doing aliment
– works with OEM subframe and our tubular subframes
– enables removal of the wishbones with our the need for removal of the subframe
Features:
– T45 (BS4T45 to BS4T100) tubing
– proven motorsport M18 uniballs (Motorsport HEAVY DUTY series from RODOBAL [Italy] with reinforced PTFE anti-friction liner, preloaded tight fit, have forged body, out of 42CrMo4 heat treated steel, for maximum load capacity. The inner ring is out of 100Cr6 carbon steel, hardened, ground and chrome plated.)
– plug and play to use with the car inc xenon sensors
What is included:
– two (pair for one car) front wishbones with all hardware for install
– set of spacers to reposition the steering rack and front anit-roll bar. Both moved up. See picture bellow.
– four rubber dust caps for uniball protection
– printed install instructions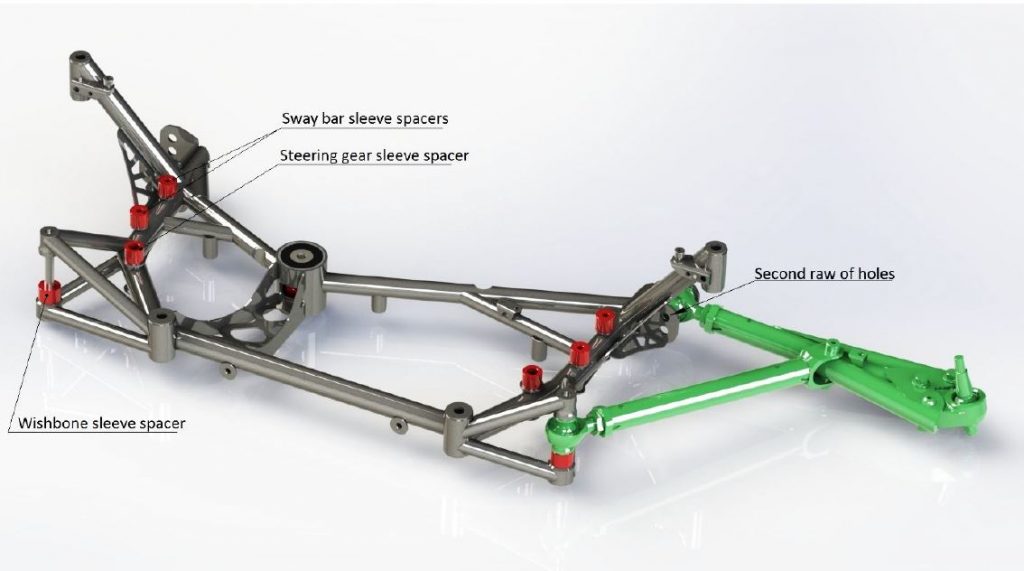 Used in  cars (type numbers in brackets):
2022 – Audi A3/S3/RS3 (8Y)

2013 – 2021 Audi A3/S3/RS3 (8V and 8VFL MQB)

2014 – 2021 Audi TT/TTS/TTRS (8S)
2012 – Volkswagen Golf/GTI/R (Mk7 MQB Mk8)
2012 – Seat Leon (5F MQB)
Other MQB-based cars
T45 is a very unique seamless carbon based steel tube that has been used in many applications in different industries. It is stronger than Co-Mo 4130 tubing that also used in motorsport. It is widely used in the aerospace sector in equipment such as pilot's seats and crew's seats due to the materials ability to withstand high G forces without snapping or splitting. This material is a Carbon Manganese based and conforms to the full Aerospace Specification laid down by British Standards.
Properties
Tensile: 700 – 900MPa,
0.2% Yield 620MPa minimum
Hardness Test: 201min – 262 max HB or 210min – 275max HV.
Note: Sold only for off road, race track and racing applications. If the buyer wants to use the parts elsewhere it is up to them to arrange appropriate documents. Lowered wishbones can be used only together with our tubular subframe.
Note 2: When using sleeves to put steering rack higher it might be not possible to use downpipe size over 3 inch. All depends on the car and downpipe design. We have tested many 3 inch downpipe designs and they work.
Additional information – benefit of using our lowered version of the wishbones.
One of the first things to do in improving stock car cornering performance is lowering its center of gravity, by decreasing its ride height. Unfortunately, it also changes negatively original suspension geometry and kinematics. To prevent it, our wishbones and subframe combo provides modified suspension mounting points, which corrects bump steer and roll center for better car handling and responsiveness.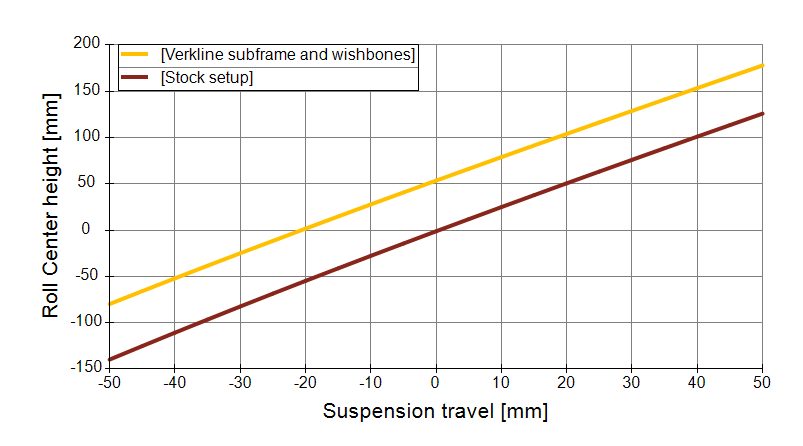 Besides correction of roll center height, it also helps with camber gain (change of camber angle within suspension travel). In circuit racing, priority is to optimize it, to reduce positive camber in corners for better grip and that is what our additional mounting provides.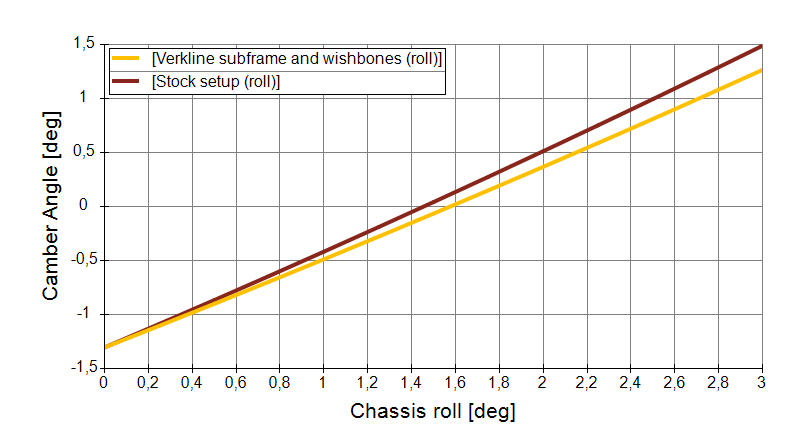 To address this issue with the come up with our wishbones subframe set.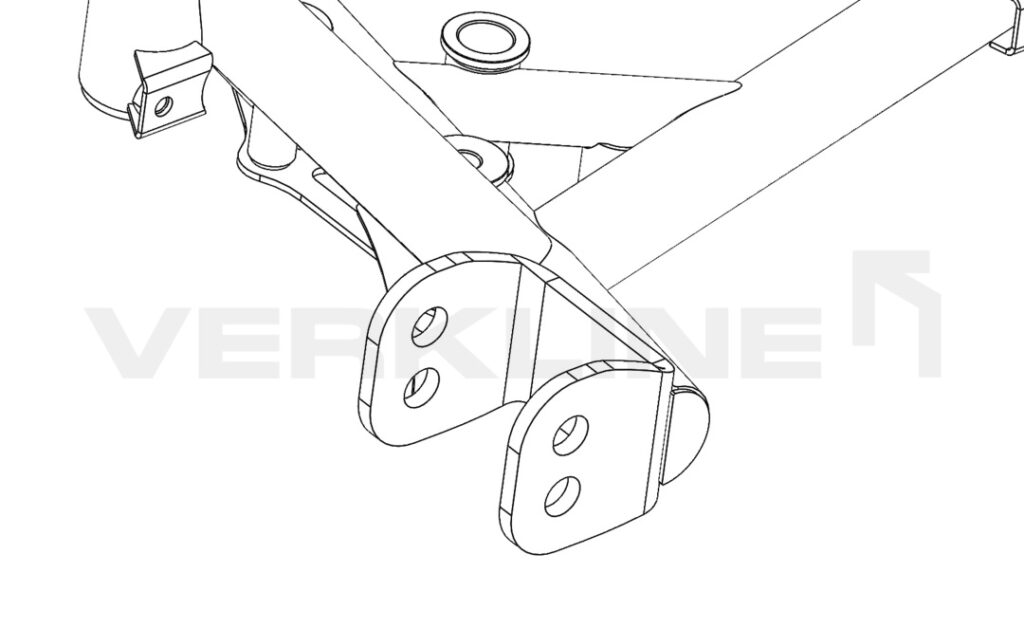 The front mount of the wishbone is lowered on the subframe mount. Lower mount hole is standard height, higher mount hole is to be used with our lowered wishbones. Please follow install instructions for the parts installation.
Replaces:
– 5Q0407151 and 5Q0407152
– 81A407151C and 81A407152C
– 8S0407151D  8J0407365 or 8J0407366
– 8S0 407 151 B (left/right)
– 8S0 407 151 D (left/right)